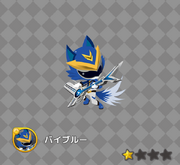 He is the other guitarist of Baiganba V.
Personality
Edit
He is a very hard worker with a lone wolf personality. Bai Red looks up to him as his senpai.
Appearance
Edit
He is a wolf Myuumon that dons a Blue Ranger Super Sentai costume with wolf like features.
His killer move is Bai Blue Choking.