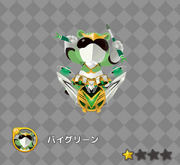 He is the Drummer for Baiganba V.
Personality
Edit
He doesn't stand out much but is very good at instrument maintenance. He also gossips a bit. Bai Red looks up to him as his senpai.
Appearance
Edit
He is a bear Myuumon that dons a Green Ranger Super Sentai costume with bear features.
His 'killer' move is Bai Green Paradiddle.