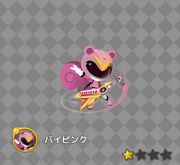 She is the Keyboardist and other Vocalist of Baiganba V.
Personality
Edit
While working, she works hard on looking for customers and is very peppy.
Appearance
Edit
She is a squirrel Myuumon who dons a Pink Ranger Super Sentai costume with said animal features.
Despite her being a vocalist, Bai Red is mostly heard.
Her 'killer' move is Bai Pink Cluster.