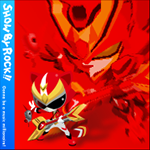 One of the bands competing in Midi City. They are parody of the Super Sentai series.
A Super Hero band with fiery hearts and soul. They are also employees who are usually employed in a large dealer of chain musical instrument stores . Every weekend, the hold concerts known as "Superhero live" that is held on the roof of the store where they would flirt a little and hangout with great friends. They are also popular in the usual sellout crowd.
Revolution and change! Go! Baiganba V!
バイガンバーV
Sunset
Get a Chance
Stand Up! バイガンバー!
They made a cameo appearance in Episode 02 of the anime in a commercial.
Though their human forms can be seen in UR Bromide cards, look closely at their other appearances and you can see somewhat of their eyes.