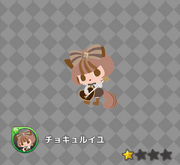 She is the guitarist of the band, Dolly Dulci.
Personality
Edit
She is shown to love sweets especially chocolate and brings the band together in case the leader is absent.
Appearance
Edit
She is a squirrel Myuumon with a peach face with a dark red nose and a pair of white eyes with dark brown pupils. She has a pair of small dark brown pointy ears coming out at the top of her hair. The hair is short, bobbed and cocoa colored with three dark brown stripes streaking vertically in the middle of the front. The same design is used on her thick bushy tail. Her outfit consists of a white puffy dress shirt with long sleeves with a black bow around the neckline. She sports dark brown puffy pants and brown boots. She also sports a big hair bow on the top of her head with a similar design to her hair but is more faded and has two stripes and a diamond in the middle.
Her motive is chocolate.
She is particularly good at calligraphy.
She has certifications in kanji skills, color coordination and preparing fugu fish!