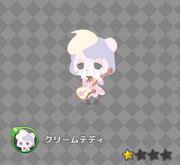 She is the bassist of the band, Dolly Dulci.
Personality
Edit
She is a sleepy little girl who does things at her own pace.
Appearance
Edit
She is a light pink bear Myumon with lavender hair. She has a pair of white eyes with black pupils, a white muzzle with a pink nose and sticking out of her head is her pink ear and a white whip cream accessory. Her outfit consists of a pink dress with white decorations, a black ribbon, pink and purple striped stockings and black boots. She always has a sleepy expression.
She sometimes dozes off during live performances!
She seems to have "friends" in her dreams…