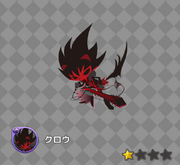 He is the lead guitarist and vocalist of Shingan Crimsonz. He is voiced by Kishō Taniyama in game and anime.
Personality
Edit
He takes his job as a musician very seriously and has a tendency to call his fans "cattle". That is due to his parents being dairy farmers. He also hates being called out on his short height.
Appearance
Edit
He is a red hedgehog like myuumon with black quills as hair with two red triangle shaped ears sticking out and a black spiked tail. His eyes are dark red with black pupils. His outfit consists of a long red shirt with tattered ends and a black tie, a black jacket with dark grey fur at the top and black pants with black spiked boots. He is sometimes seen wearing a black spiked collar with a silver skull charm.
He likes curry and milk.
His theme seems to be a fallen angel.
His guitar is named Red Tomahawk.
He often refers to Aion as "Bigman" and refuses to tell anyone why.
He is the shortest of the group.
His height is 165cm (5'4).
His birthday is 6 September.
He hates the cold.