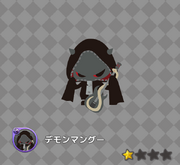 He is the guitarist of the band, Demon's Venom.
Personality
Edit
He is normally introverted but when he gets angry, he becomes very dangerous.
Appearance
Edit
He is a dark grey mongoose myumon with some imp like qualities such as having horns. He has a pair of red eyes with black pupils. His outfit consists of a black hoodie with long sleeves and a big zipper.
He is usually seen having fights with the snake on his guitar. The fights are never concluded...
-This is probably because mongoose and snakes have a bad relationship.