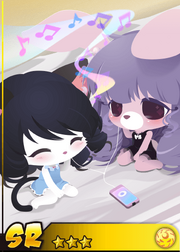 Track 02- With our crimson gaze, etc. is the 2nd episode of the SHOW BY ROCK Anime. It showed on April 12, 2015. This episode shows us about Shingan Crimsonz, members: Crow, Aion, Yaiba and Rom, and some scenes about Plasmagica.
Episode 2, starts off by continuing the entrance of Shingan Crimsonz.
Chu Chu, Retoree and Moa show Cyan to the Pub and Cafe of the record company. Maple Arisugawa is shown drunk while Crow was beside him. Maple is contacted by a representative of Trichronika and is asked to have Shingan Crimonz doing the opening act because the band that they originally had came down with food poisoning. Shingan Crimsonz was originally against it but were quickly convinced by Angelica's scary face.
The opening act was a success, even getting a few fans of their own.
Cyan is invited to stay at the BRR dormitories when they found out that Cyan had no where to stay at. Cyan takes a bath and sings while her other band mates overheard her singing and love it. They all went to Cyan's room and discussed about the song. When Cyan is alone again, Strawberry Heart tells her of the reason she's here. She learns that she cannot return home until she saves the world that she is in. Cyan agrees on the condition that she will be able to return before Golden Week starts. 
Episode Notes
Edit
Shingan Crimsonz make their full debut.
Angelica is revealed to own her own café.
Though it short, Baiganba V makes a short cameo in a commercial on the T.V.
Cyan begins living with Plasmagica.
Strawberry Heart begins to speak to Cyan once again.
Shingan Crimsonz perform for the first time in the anime.
Rosier makes a debut towards the end of the episode.
<--Episode 01-->Episode 03