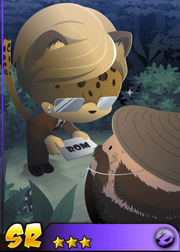 Track 06- Ba-dump!? It's a Beach Training Camp ♡ Full of Swimsuits ♪ is the sixth episode of the SHOW BY ROCK Anime series that premiered on May 10, 2015.
Episode Notes
Edit
Strawberry Heart reveals his existence to the bands.
- He also reveals that Dagger Morse is the true villain and that he is responsible for the Dark Monsters and Cyan's arrival to Sound World.
Maple Arisugawa takes the bands on a training camp to the beach to prepare to preform in Grateful Rock Festival.
Some of Maple's relatives make their debut.
Cyan reveals her love of music to Retoree in order to make up with her.
Through some musical confrontation, Retoree makes up with Cyan.
Moa reveals herself as an alien to the girls.
<--Episode 05 --> Episode 07