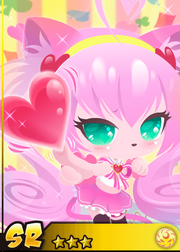 Track 09- Falling Star Dreamline is the 9th episode of the SHOW BY ROCK!! Anime that premiered on May 31, 2015.
Episode Notes
Edit
As their battle with Criticrista nears, Plasmagica try to improve their performance to enhance their performance. They soon stop as they learn what is truly important is to have fun.
The Battle of the Bands begins with Criticrista performing "Yes! Idol ♡ Declaration" from their last performance while Plasmagica performs "Falling Star Dreamline" (the song performed in episode 06).
Plasmagica wins this battle of the bands to horror of Rosia.
Dagger Morse makes his full body appearance after Criticrista's loss.
Dagger fires Ogasawara who in return, flees in horror after seeing Dagger's rage.
Dagger punishes Criticrista by darkening their Melodisian Stones.
<--Episode 08-->Episode 10