Track 10- Reverse Rhapsody is the 10th episode of the SHOW BY ROCK!! Anime series that premiered on June 7, 2015.
Episode Notes
Edit
Dagger Morse takes that opportunity to scheme up a plan.
Strawberry Heart warns the girls of Plasmagica of Dagger's plan to capture Cyan, Shu Zo and Daru Dayu during the Grateful Rock Festival.
Dagger lures Chu Chu to his studio to brainwash her by using her selfish desires.
Chu Chu nearly quits Plasmagica but is saved by the efforts of the girls.
It is revealed that Grateful King was possessing Strawberry Heart to communicate with Cyan and the others.
It is also revealed that Chu Chu wanted to start her own solo career after Plasmagica.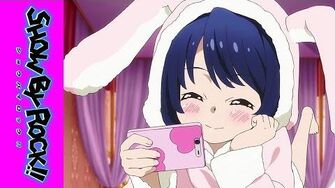 <--Episode 09-->Episode 11