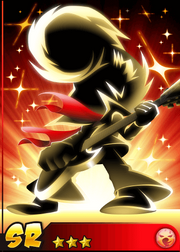 Track 12- Our Youth is Non Stop! is the 12th and final episode of the SHOW BY ROCK!! Anime series' 1st season that premiered June 21, 2015.
Episode Notes
Edit
It is revealed that Criticrista was transformed into a Dark Monster after the events of Episode 09.
Cyan and Plasmagica defeat the Dark Monster.
Rosia and Criticrista apologizes to Plasmagica for their actions against them.
Dagger Morse makes his true appearance to take over Midi City.
Maple Arisugawa and Angelica break into Dagger's studio to free Grateful King.
Cyan's Melodisian Stone is nearly corrupted by Dagger but is saved by Grateful King's appearance.
Cyan turns into an angel like form and defeats Dagger using Strawberry Heart as an arrow.
Dagger is finally defeated and turned into a small white blob form.
Grateful King reveals himself to be Strawberry Heart (a fact that shocks and horrifies Crow)!
Plasmagica performs one final concert before Cyan returns to worlds.
Uwasanopetals,Pig Macaron, Mari Mari, Tsugihagi, Wendy and Koriente make cameos towards the end.
Maple's human form is revealed towards the end!
Cyan returns to her world.
Cyan finally gets the courage to join her school band!
<--Episode 11