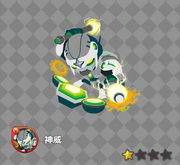 Kamui is the drummer for the band, Ninjinriot.
Personality
Edit
Not much is known about him but he has been shown to be loyal to his bandmates.
Appearance
Edit
He is a ninmachine who is from the future. He is mostly grey and silver with green accents. He is also very bulky.
Due to the fact he hardly talks, he collects language in a sound library in his memory banks.