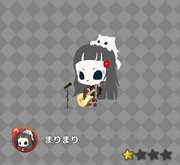 Marimari is the singer and guitarist of the band, Shinimonogurui.
Personality
Edit
She likes to imagine songs with her pet cat.
Appearance
Edit
Sheis a Zashiki Warashi Myumon girl. She is usually accompanied by a white cat who is seen on her head. She wears a floral print kimono with brown boots. Her skin is mostly pale and her hair grey and dons a red flower accessory. She has a pair of white eyes with navy blue pupils.
Her birthday is September 22nd.
She is based off of the singer, Ueda Marie.