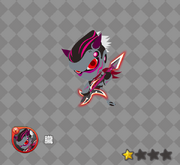 Oboro is the leader and guitarist of the band, Ninjinriot.
Personality
Edit
He has a silent and cool personality. He is also trustworthy which is why the bandmates look up to him.
Appearance
Edit
He is a cyber oni Myuumon. He is mostly silver, black, violet and red in color. He has a pair of white eyes with red pupils. His outfit black armored ninja uniform with silver hand covers.
In the future, he has a rivalry with Arashi.