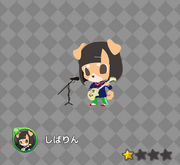 Shibarin is vocalist, guitarist and leader of the band, Uwasanopetals.
Personality
Edit
She is passionate about music. Aside from that, she is usually the straight man when it comes to her bandmates antics.
Appearance
Edit
She is a shiba inu Myumon. She has a pair of white eyes with dark brown pupils, a dark brown nose on her lighter muzzle, and black short hair with her ears sticking out on top. Her outfit consist of a traditional navy blue Japanese girls sailor uniform with light green track pants underneath and she wears red and white tennis shoes.
In order to find band members, she randomly asked students on campus who were free at the time!