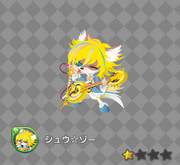 Shu☆Zo is the lead guitarist and vocalist of the band, Trichronika. He is voiced by Kasuya Daisuke in game and Mamoru Miyano in anime.
Personality
Edit
He has a great dedication for music and cares for the twins in the band: Kai and Riku. His prince like attitude manages to capture the hearts of female fans.
In the anime, he was shown to be in a band with Rom. The flashbacks imply that he left the band and has a different personality than who he seems to be.
Appearance
Edit
He is a brown fox like Myuumon with blonde hair with blue, pink and green highlights and has a pair of white eyes with teal pupils. His clothing is similar to a prince with a fancy light blue overcoat covering a frilly white shirt and pants with blue shoes. He also wears a pair of pink headphones around his neck.
In the anime, Episode 4, a flashback when he was in a band with Rom, he had black hair with purple streaks.
In the anime, he is portrayed by Mamoru Miyano who is also known for voicing Death the Kid from Soul Eater [1], Dent from Pokémon: Best Wishes and Tamaki Suoh from Ouran High School Host Club [2].
His character design and quote very similiar to Takuto Tsunashi from Star Driver: Kagayaki no Takuto,also same voiced by Mamoru Miyano.