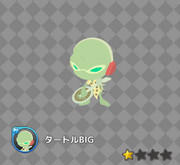 Turtle BIG is the bassist of the band, Shizuku Secret Mind.
Personality
Edit
He has a cool personality and a passion for surfing. He is also a strong composer for the band's music.
Appearance
Edit
As his name implies, he is a turtle Myumon. His skin light green. His outfit only consists of a spotted yellow loincloth on his body, A pair of headphones with red speakers a pair of white sun glasses with green lenses. His shell is on his back.
He is the only male member of the group.
He made a cameo appearance in the Anime in Episode 05 and Episode 07 in his myumon form.