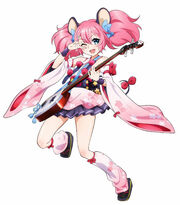 Un is the bassist for the band, Tsurezurenaru Ayatsuri Mugenan.
Personality
Edit
She is known to love shopping and looks up to her master, Daru Dayu.
Appearance
Edit
She is a grey mouse Myuumon. In her early appearance, her face was shielded by a large roundish mask and she wore a dark blue kimono. In later appearances, she is shown two have pink hair set into pigtails held by two light blue bows with white spots. She wears a pink, red, white and navy blue kimono with floral accents. She also has a pair of white eyes with light blue pupils.